Behind the scenes – How we made our TV adverts

We have just launched the biggest ever TV advertising campaign in our history, but what does it take to pull together a TV campaign?
This is the third, and most ambitious, TV campaign I've produced for First4Lawyers. Not only have we created four different adverts, but we've developed a fully integrated campaign. This includes YouTube, press, digital display and programmatic adverts, as well as TV adverts.
The way we consume media is changing and whilst traditional TV viewing is on the decline, we are seeing overall media consumption increase as more people subscribe to online and subscription streaming services. As such we need to adapt and change our marketing strategy accordingly.
TV is far from dead, and despite a modest fall in viewing figures we still find that it's a very relevant marketing channel as many of our target market still regularly watch TV. However, we recognise that some of our target market are now consuming their media via different online channels. Therefore, we need to ensure our brand appears in these channels.
It's also important that you don't just repurpose what you've put on TV for your online audience as they interact with online advertising in such a different way. This meant when we produced our brief and concepts, we had to think about every element of the campaign depending on the media channel we were going to use.
Producing a TV campaign is a complicated task and takes a substantial amount of time. Our journey began last November when we pulled together an initial brief and ran various customer insight analysis research. We also spent time looking for the right creative and production partners to deliver the campaign. This involved various agencies pitching their ideas and credentials. Once we found the right partner, they then took time to understand the insight and research to hone the idea and develop the concept.
This time is vital as we needed to make sure the message and tone was right and ensure it would cut through in a competitive market. As part of this process we recruited a director (from Hollywood, no less!) who added their creative treatment to the concept and turned an idea into a storyboard outlining what's going to happen throughout the advert.
These storyboards then become the blueprint for the adverts. It enables the production agency to start developing sets, props and the equipment needed; the talent agency to search for actors; and the creative agency produce scripts.
Liz is the central character of the adverts and she demonstrates that she has values we offer as a business and can provide the expertise, reassurance and help with legal matters consumers need.
Before we can start shooting, the scripts need approval. In the UK, broadcasters aren't allowed to show ads that are misleading, harmful or offensive. So before ads are shown, Clearcast check them against the UK Codes of Advertising (the BCAP and CAP Codes), which set out what is and isn't permitted. We have to substantiate any claims we make so what we broadcast is honest and truthful.
The pace of the project picks up in the run up to the shoot, culminating in a pre-production meeting 48 hours prior to filming. At this meeting we go through everything with a fine toothcomb; approving cast, props, costumes. Then reviewing the shooting schedule to ensure we get all the footage we need.
Production is a continuous hive of activity and we have produced a one minute video that gives you a flavour of what happened on the shoot.
Our venue was a dedicated studio in Manchester's Media City, which in essence is a giant warehouse. We had two sound stages, two white rooms that act as a blank canvas that we can dress and light accordingly. The crew arrive early to prep the first stage ready for filming and whilst we film the first advert they are building the set for the second advert.
Although our adverts are quite simple in style there was a lot of work to do because we had some bespoke props, including an eigh-foot light switch, banners, levers and a giant trapdoor.
Each advert may only be 30 seconds long but takes about six hours to film. There are multiple rehearsals and the set is altered to ensure we get the best finished product. The director shoots and reshoots each part of the scene over and over again. His attention to detail was outstanding, picking up on little things that most people wouldn't notice.
The director is an essential part of the process and we were delighted to use Hollywood-based BAFTA nominated director Chris Cottam, who has worked with the likes of Owen Wilson, Robin Williams, Bob Geldof, Romesh Ranganathan, Nigella Lawson and Chris Rock. He has directed commercials for high profile brands including Umbro, Kleenex, Typhoo, Skoda and Umbro, shot music videos for some of the biggest artists in the world, and has recently directed sitcoms, and TV shows for worldwide networks like the BBC and the Disney Channel. His skills and capabilities were second to none and he pulled the team together and we had the pleasure of watching as he brought the storyboards to life.
We had a great team of actors, particularly Katie who played Liz. She had such a good screen presence and nailed every scene she did with enthusiasm and energy. Investing in the right talent makes the job much easier and they were all good sports, especially when it came to plunging them through the trapdoor multiple times. Having had a go on the trapdoor myself I can safely say it was quite daunting!
Our second short video further highlights how the adverts were pulled together and gives a real sense of the amount of people and equipment required to produce a good quality advert.
We had two long and exhausting days on set and were very excited about what we had shot, but this is far from the end of the story.
The raw footage is only just the start of the production process, because it is just that, raw. The post production editorial team then take over the project investing hundreds more hours in not only editing the footage but also adding CGI special effects.
They work to ensure the final product looks as high quality as possible along with making sure the right call to actions are in place. All of the adverts have some form of special effects, be it adding call to actions or ironing out little glitches.
Take our Employer Liability advert for example. This was probably the most complex of the adverts because it had so many moving elements in it. We actually filmed it backwards, starting with all the props in the scene and then removed them shot by shot to end up with an empty set.
However, there were many elements in the shot, as you can see from the picture below, that were required to keep props in place or make them move. But we don't want them in the final ad. This is where the post-production plays its part.
From this: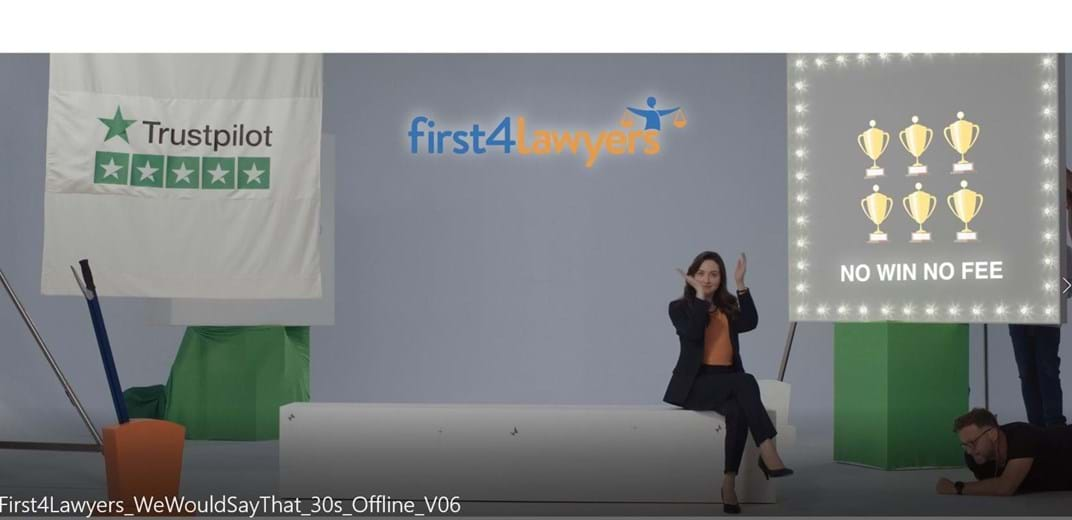 To this: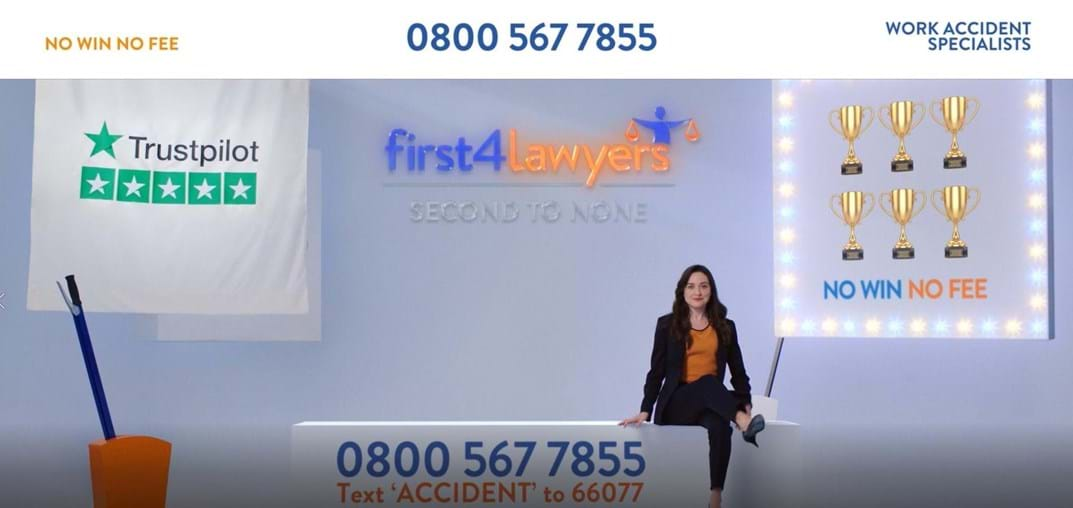 This grading makes the final adverts what they are. We have another short video to show how they do this.
We hope you enjoy the adverts as much as we enjoyed making them and we're looking forward to seeing them on small screens for the foreseeable future.
And finally…
It wasn't all plain sailing as with much irony on the set of a personal injury advert, our creative director failed to see the wet paint sign and ended up doing his own Bambi on ice impression. It was just a shame that the CCTV was running to capture his embarrassment.