NEW White Paper: Trust Me, I'm a Lawyer – Marketing Legal Services in 2023

Find out why trust plays such an important role in the way consumers choose a law firm in our new White Paper, ready for download now.
One in four law firms impacted by the whiplash reforms have already exited that market with more set to follow, according to our latest research.
At the same time, firms are focused on growing other areas of their personal injury (PI) practices through a combination of factors, from sales and marketing to mergers and acquisitions.
In a highly competitive market it's never been more important for law firms to build trust with potential customers yet our research reveals that just over a third (37%) monitor online reviews, despite increasing numbers of consumers using sites like Trustpilot and ReviewSolicitors to rate their experience. 
These are just some of the major findings from our brand new White Paper: 
Trust me, I'm a lawyer – marketing legal services in 2023.
Our research revealed: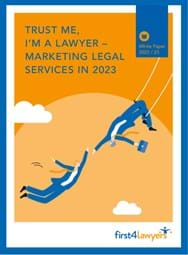 30% of law firms are considering an acquisition or merger over the next 18 months
58% of firms say consumers are more demanding on service
37% of firms monitor online reviews
37% of firms say a mobile-first website is important
Download our latest White Paper for free here.
As our managing director Qamar Anwar says, "Growth may be the economic buzzword of the moment but it's easier said than done across an economy in turmoil and still recovering from the impact of the pandemic. It became an even greater challenge with the introduction of the OIC portal. Some 70% of firms say it went live before it was ready and there are still problems now, evidenced by the low number of people using it without a lawyer.
"With the government seemingly intent on pushing through further reforms, the challenges look set to continue unfortunately. But if PI lawyers have proven nothing else since the waves of change that have hit them since 1999, it is that they are incredibly resilient.
"The need to keep existing clients happy to prove to prospective clients that you are the lawyers for them has never been stronger. The PI market may be thinning out, but it remains highly competitive and differentiating yourself remains key.
"Similarly, failing to monitor or respond to reviews is missing an open goal. Being proactive both limits any damage from negative reviews and can actually boost your reputation by making you look like a modern, consumer-focused firm that values the views of its clients and is invested in improving their user experience."
Find out if your firm is doing all it can to grow and get ahead of the competition.