White paper: Converting clients - calls, clicks and cash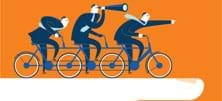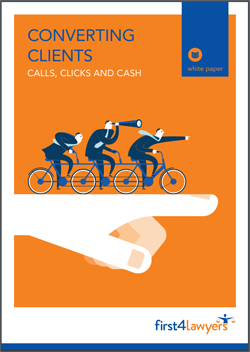 Personal injury law firms are missing out on significant amounts of business because of the way they handle incoming calls from potential clients, according to mystery shopping research by First4Lawyers.
Download the white paper now (pdf, 3.9mb)
Research summary
Following up contacts was the most striking problem: where firms had to call back the mystery shopper, 23% of them did not do so for more than two days – or at all.
By contrast, 35% called back within 15 minutes; a world-class level of response.
The research, conducted by customer experience specialist Insight6, saw mystery shoppers contact 50 PI firms by telephone and online, then rank their experience by first contact and efforts made to convert them into clients.
In the main, the mystery shoppers were happy with their interactions with law firms. Four in five found their overall treatment warm and engaging, and there were virtually no complaints about having to wade through jargon.
But what was lacking was a sense that the firm really wanted the work.  Asked whether they felt the firm attempted to add value or 'go further' for them, only 52% said yes. There was also evidence that many firms failed to 'sell' the benefits of using their services, didn't offer to send further information or arrange to make a follow-up call.
Nonetheless, when asked to rate the likelihood of recommending the firm to others, on a scale of 1-10 (10 being 'definitely will recommend'), some 62% gave an 8, 9 or 10 (8% scored a perfect 10).
In 84% of web enquiries, the contact led to a telephone conversation, which is vital if solicitors are to convert them into clients.
The white paper outlining the results features case studies of various firms, including south-coast practice Warner Goodman. Solicitor Dan Thompson, business head of its injury team, described incoming enquiries as "the single most important call that comes into the office". He added: "If you don't treat that phone call with the respect it deserves, you might as well burn £5-600."
Qamar Anwar, First4Lawyers' managing director, says: "It goes without saying that these are difficult times for PI lawyers. Low-value PI is an unusual market in that there is no real price competition. So, the quality of service, from the moment the phone rings or the email pings, is crucial. This is especially important given legal regulators' efforts to encourage consumers to shop around for a lawyer.
"The dynamics between lawyer and client are changing. Consumers are just one click away from seeing a competitor brand. Firms now need to be doing everything they can to stand out from that competition."
Download the white paper now (pdf, 3.9mb)
Best practice case studies
Eaton Smith - Huddersfield firm Eaton Smith has a separate PI brand, YES Personal Injury Lawyers.
Adele Whitfield, head of PI, says: "All calls come into our new cases team, which deals with clinical negligence cases itself but passes on PI claims straight to one of three dedicated fee earners. This gives the customer the reassurance that this is the person they will be dealing with from beginning to end. We don't pass clients around – the person you speak to is the person who handles your claim and we find that this is a big selling point."  Read our interview with YEP PI
True Solicitors - True Solicitors is a multi-office firm of a size where the number of inbound enquiries means it needs to have a dedicated first response team.
Newcastle-based operations manager Caroline Houghton, who also heads the RTA claims portal team, says the process has evolved considerably in her 16 years with the firm. The team has been trained on how best to engage with clients, and is regularly monitored to ensure that its members are putting that training into action. Read what Caroline Houghton has to say about first response teams and their value
Warner Goodman - south coast law firm Warner Goodman is fully signed up to the importance of training staff and monitoring conversions.
Last year, all staff across all departments underwent training on sales and conversion so that everyone received the same message that there is a 'Warner Goodman way' of handling the telephone and enquiries. The injury team receives quarterly refresher training too.  Read the full interview