Industry Updates
Marketing Through the Pandemic
13 minutes
Our head of marketing takes a look at the personal injury marketing landscape over the last 6 months to see how businesses reacted during some of the most unprecedented times in modern history.
The headlines:
Search volume dropped 63% across PI and 78% for Medical Negligence at the peak of the pandemic.
The cost of marketing was more than double the normal cost at its most expensive point.
Search volumes fell but advertiser numbers increased, pushing up the cost per lead to record levels.
New advertisers emerged as their normal channels became less effective.
Spend increased from outside the top five.
Some firms' approach to marketing has become dangerously lazy through a lack of understanding of social media.
Market conditions
The full impact of COVID-19 wasn't felt until after lockdown started on 23rd March, however we were already seeing fluctuations in market performance from late February onwards.
Personal Injury - Search volumes fell 43% compared to February and were down 44% year on year with CPCs up almost 5%. In April they fell a further 21% on March and were down 55% year on year with cost per click running at almost 53% more expensive than the same time last year and 57% up on the previous month. If we look at the 30-day period around lockdown in isolation, we can see that search volume was down 63% on the previous year and the cost per click was up 33%.
Since July we have seen the gap narrowing as search volume has steadily increased. However by the end of September, despite being at their highest level since February, they were still lagging almost 14% behind where we were 12 months ago.
Much of this will still be reflective of a reduction in people making journeys and more people working from home than normal but reflects a wider trend in the reduction of Personal Injury claims being made.
These fluctuations in search and increased competition means that we are still seeing a volatility when it comes to the cost of generating a claim. September was the first time we saw CPCs fall below 2019 costs but at a granular level we've still seen massive fluctuations across the month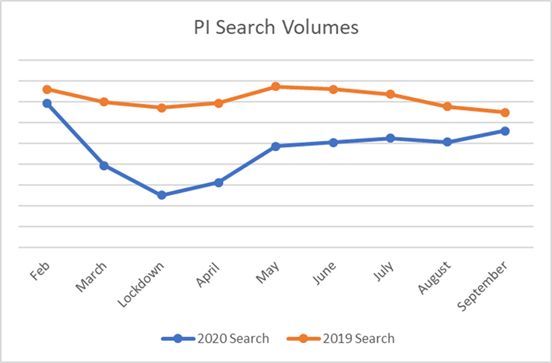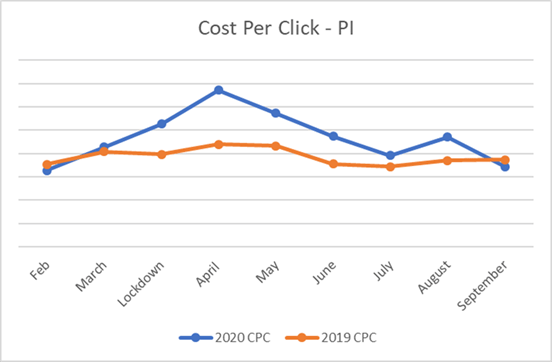 Medical Negligence Search – Very much like PI, we saw search volumes tumble overnight but whilst PI flatlined and bounced back fairly quickly, it has taken Med Neg much longer to recover.
In March they fell 45% compared to February and were down 47% year on year. This saw a 44% month on month and 15% year on year increase on the cost per click. These falls intensified into April, with search volume down a further 60% month on month and almost 80% down year on year. This in turn pushed up the price of a click to the highest cost ever seen and was running at 63% more expensive than the previous year. The reality is that we saw an initial lockdown slump that was exasperated into April, before more slowly recovering in May and June.We saw a 43% increase in medical negligence searches in May vs April and 34% increase in June vs May but they were still running at 69% and 57% behind the same respective periods in 2019 and were costing anywhere between 44% and 67% more per click.
Fortunately, we saw further increases in search volumes into July and CPCs, whilst still some 15% higher than the norm, had returned in line with pre-lockdown levels. Since then, Medical Negligence has remained steady away in terms of search volumes but is still around 30% behind where we would expect for search volumes. This in turn has pushed the average online CPC up compared to normal but has dropped back below what it was costing at the start of the year.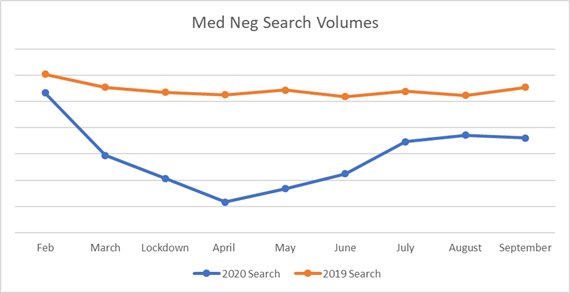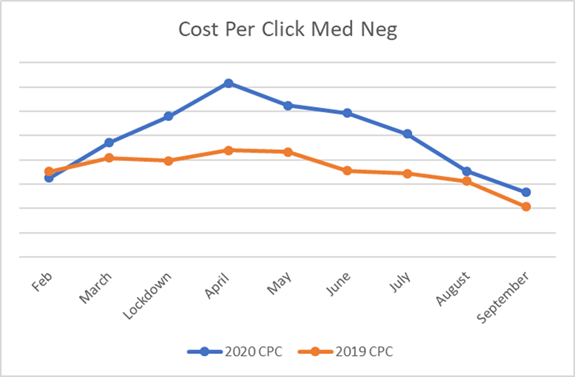 Changing search landscape
Within PI we look at different search categories:
PI – which are generic search terms such as injury, accident, personal injury etc.
NWNF – which are variants of searches for no win no fee matters.
EL – which relate to work accident searches.
PL – around slips and trips that people may have had.
RTA – which are road traffic accidents.
Reviewing search data during the main period of the pandemic when we were all in heavy lockdown compared to normal and then contrasting that with the current search market, we can make a number of observations.
First, unsurprisingly all areas of search saw falls in search volumes and increased CPCs during the pandemic but there were fluctuations between search terms. EL, PL and NWNF search terms all saw falls in search volumes in excess of 60%, which isn't surprising given that workplaces and shops being shut meant fewer accidents were happening.
Despite this, the cost of PL search increased by 40% compared to NWNF, which was up 84%, and AW, which was up by over 141%. This reflects the value of the different workstreams and the competitive nature of each area.
The number of RTA and generic search terms, whilst still falling, fell less than other searches, with RTA searches down 28% and generic search terms down 42%. This would appear rather surprising given that the number of car and public transport journeys was falling.
However, our own experience found that we were seeing a higher influx of calls from people in financial distress looking to see if they could make a claim for an accident that they may previously not have thought about claiming against. As a result, we saw an increase in cases we couldn't help with due to liability, limitation and quantum. As part of our rigorous approach to vetting, we will have rejected these leads, but it demonstrated that the audience wasn't accurately reflective of the market available.
We are seeing a growth in search trends again, with all areas higher than they were during the peak of the pandemic. However, some areas are recovering stronger and faster than others. NWNF is only 18% down on normal search and the cost per click is running 37% more expensive than average. Generic search terms are 7% fewer than normal but are still quite expensive, at 73% more than average. We will be seeing more people looking at NWNF as they will be experiencing monetary concerns and want to look at low cost routes to support.
RTA is also catching up with the norm again. The cost per click is about what it should be and the search volume is around 14% behind normal levels. EL and PL levels are, however, recovering more slowly, partially due to lower footfall.  More specifically, there will still be a downturn on EL, with more people still working from home and a reticence for those still in gainful employment to rock the boat.
This is therefore having an impact on the CPC, with EL search terms still costing on average double what they normally would.
Budgets struggling to stretch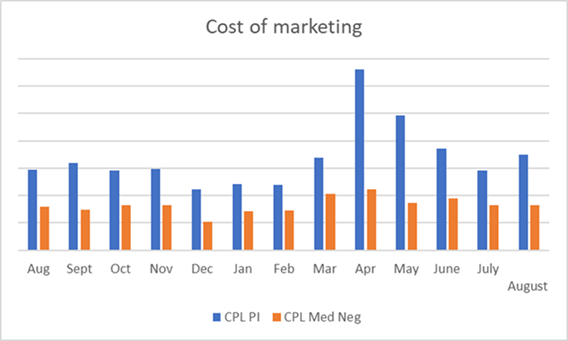 There was a massive increase in the cost of generating enquiries across both PI and Med Neg but it really was a tale of two different worlds. Across Personal Injury we saw the volume of advertisers double compared to the average, which meant that the cost of advertising soared. Whilst the number of Medical Negligence advertisers and cost of advertising increased, it wasn't at as dramatic a rate as we saw on PI.
The reality was that whilst demand fell in both areas, advertisers were more determined to fill their PI pipelines at any cost, whereas there appeared to be a ceiling price for Medical Negligence enquiries, with people taking a more broadly conservative approach to marketing these services given the sensitivities to the NHS.   
We also saw a big shift in spend going into digital marketing from TV advertising during the pandemic. This, combined with reduced search volumes, has seen CPCs rise and in return, most advertisers are unable to attain the same level of advertising market share.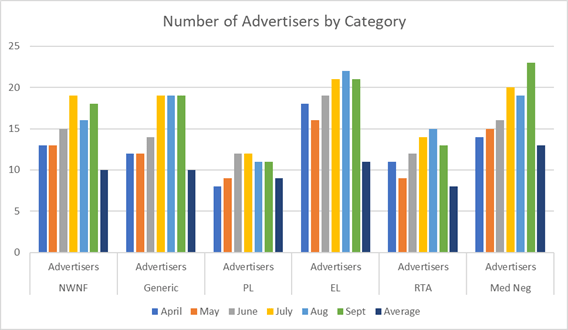 *The average number represents data for the previous 12 months before the Covid-19 pandemic.
We can see by looking at the number of advertisers by category that there has been a significant shift in the volume of competition. All categories have seen monthly increases since the start of the pandemic, with more advertisers both month on month and compared to average. However, this trend appeared to peak in August, with fewer or similar numbers of advertisers across most categories, apart from Med Neg.
Difficulties retaining Impression Share
The competitive state of the market is further reinforced when we look at advertisers' capabilities to grow advertising share. When there are fewer searches, we would expect to see firms' impression shares grow. But with increased competition and a significant rise in CPC, we are seeing the opposite.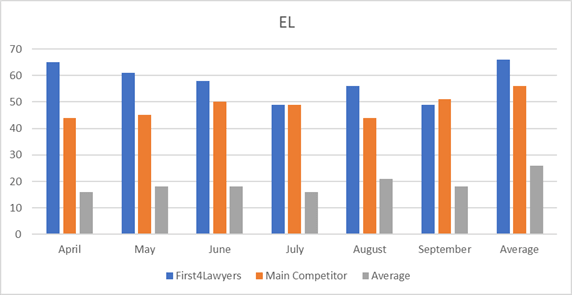 EL, for example, has shown that all advertisers' capabilities to deliver impression share has fallen despite a reduction in searches. In the above, for example, we can see that we were able to retain our impression share but, as the number of advertisers has increased, so everyone's ability to hold impression share has decreased.
This trend happens across most key areas: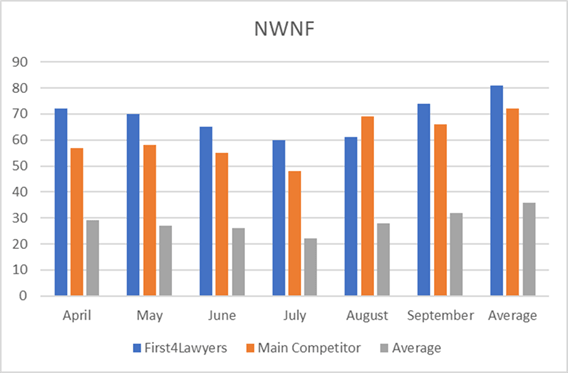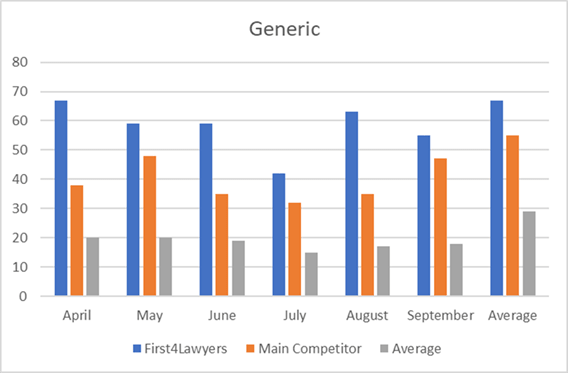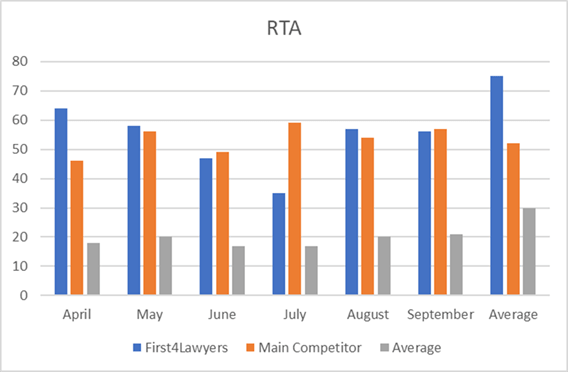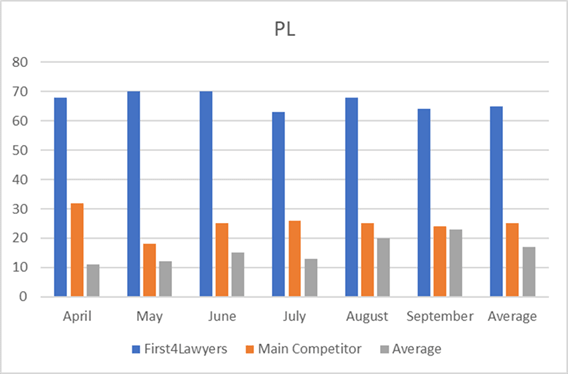 However, as firms have struggled with the increased cost of marketing, we have seen lower competitive pressures in areas like slips and trips, which means we have been able to retain impression share without having to invest extra money.  
Despite April being the most challenging month for search volume and volatility in the market, July was probably the most competitive month to date. This was when it was harder to maintain market share because we not only saw new advertisers coming to market but some of the established advertisers increased their aggression. Typically, these were larger beasts already relying on competitor marketing collectives for their leads. It was widely reported that one of these collectives in particular wasn't generating as many enquiries as they would expect and this forced these firms into the open market.
In addition, we could see several smaller firms realising they needed to drive their pipeline and give things a go.
Top five dominance?
The arrival of these additional advertisers has had an impact on the dominance of the top five advertisers. Pre-COVID, the top five advertisers accounted for between 65% and 75% of all ad spend. Across June to August, we saw this split swing closer to 50/50 but into September we have seen a return to that 65/35 split.
Different advertising channels
We saw an immediate and sudden change in our sector's approach to TV advertising when the pandemic hit. We'd already been observing some strange fluctuations in advertising from our competitive set, with very few of them consistently advertising month after month. In March, four out of the top five legal brands were advertising but as soon as lockdown hit, there was a mass departure from TV. In the first two weeks of April, we were the only top five PI brand advertising and were up against one other brand in the medical negligence category. They themselves have almost doubled what they have been spending on TV during the pandemic.
One other top five brand returned for the last couple of weeks in April and remained on air into May, but spending about two thirds of the budget that they would normally do so. They have since dropped off air again, an interesting strategy from a brand that is a stalwart of the TV advertising scene.
One other top five brand joined us on air in May, again on a more limited basis and with a specifically COVID-themed TV advert reflecting that they were working remotely. They have since ceased advertising on TV.
These changes in attitudes from competitors to TV advertising are reflected in the split in spend between the top five and wider advertising group.
These are strange decisions considering the pandemic has introduced an entirely new audience to daytime TV and TV overall.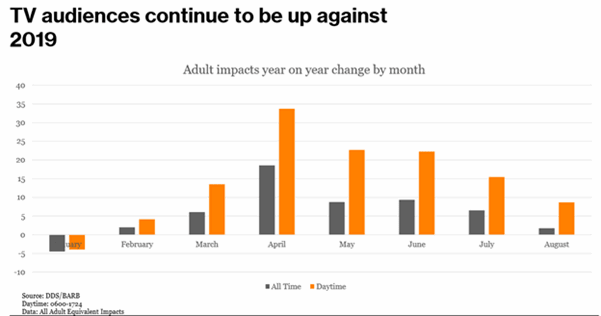 This new audience means we are driving increased volumes of enquiries from our TV advertising.
Too much for some?
The reality of what we are seeing at the moment is that brands' budgets aren't going as far as they normally would. They are having to make more decisions between different marketing channels and the length of time they appear when they are advertising. As such, we have seen consolidation of some brands' approaches to advertising, unable to advertise on TV and across paid search media. They have moved into cheaper and less competitive advertising groups and channels, such as social media, in the race to find leads in a market that has shrunk.
However, as mentioned above, we are seeing some very lazy strategies by a number of advertisers that could have a detrimental impact on the entire industry. They are driving spend into social media advertising because it is cheap, but they are simply running campaigns on as wide a reach as possible, as opposed to targeting the audience with meaningful metrics.
This means consumers are potentially seeing dozens of competing Personal Injury and Medical Negligence adverts each day. They are akin to the text message campaigns of the 90s and will only serve to further alienate our potential customer base.
It is the duty of everyone in our profession to think about how they promote themselves by showing how we are relevant to that potential client here and now.
The future?
If I had written this at the start of September, then my view would have been somewhat different to what it is now. We had seen volume returning to the market and the signs were looking more positive, but dig a little deeper and you will have seen that we weren't back to normal yet. Quality remained an issue. We have seen more speculative enquiries from people in financial distress looking to make claims for accidents, meaning that limitation, liability and quantum rejections are higher than normal.
As the country re-opened,  it would have been fair to say we would expect to see an increase in accidents and subsequent enquiries. Fast forward a few weeks and we are seeing more localised lockdowns – but these shouldn't impact the national picture as significantly and will be more manageable than the national lockdown of March.
However, will these restrictions be tightened and will we face a two week 'circuit break'? If either of these things happen, then I like to think that everyone is better prepared and there will be more normality. It is worth bearing in mind, however, that there will be an impact.
You can't sit back and hope for the best. Some firms have taken proactive approaches to driving their own pipeline but they are probably realising the challenges of marketing within our sector, which is why many are starting to drift away again.
Others are trying to do it on the cheap and easy but will be finding they are facing a backlash and higher costs than they anticipated. Some have killed their ad and marketing spend entirely. So what should brands be doing with their marketing strategy right now?
The reality is if you have a proposition through a service or product that is meaningful to people, you should still be advertising, or others will be waiting to fill that space. I like to think First4Lawyers has proven over the last seven months that we have been able to continue to beat our drum in as effective a manner as possible to maintain a position of strength in the market. Others, in contrast, have reduced their activity so much that they are starting from scratch and it will take a long time to catch back up.